Credence Bathrooms of Newcastle
Family Bathrooms – Bathroom Renovation – Shower Rooms – Wet Rooms – Disability Bathrooms – Ensuite Bathrooms – Bathroom Remodelling
Bathroom ensuite is bathroom attached to a bedroom and can only be accessed by a door in the bedroom. Such a bedroom is commonly regarded as a master bedroom or an ensuite bedroom. The criterion for regarding a bedroom as master bedroom is often the incorporation of an ensuite bathroom. Safety and convenience constitutes the prime purpose of an ensuite bathroom. Walking around in the night to reach the bathroom for refreshment or convenience is quite unpleasant and poses concern for safety. Locating the bathroom after waking up from sleep may cause someone to stumble which may lead to an accident. For this reason, it is amazing and very pleasant to have a bathroom attached to the bedroom.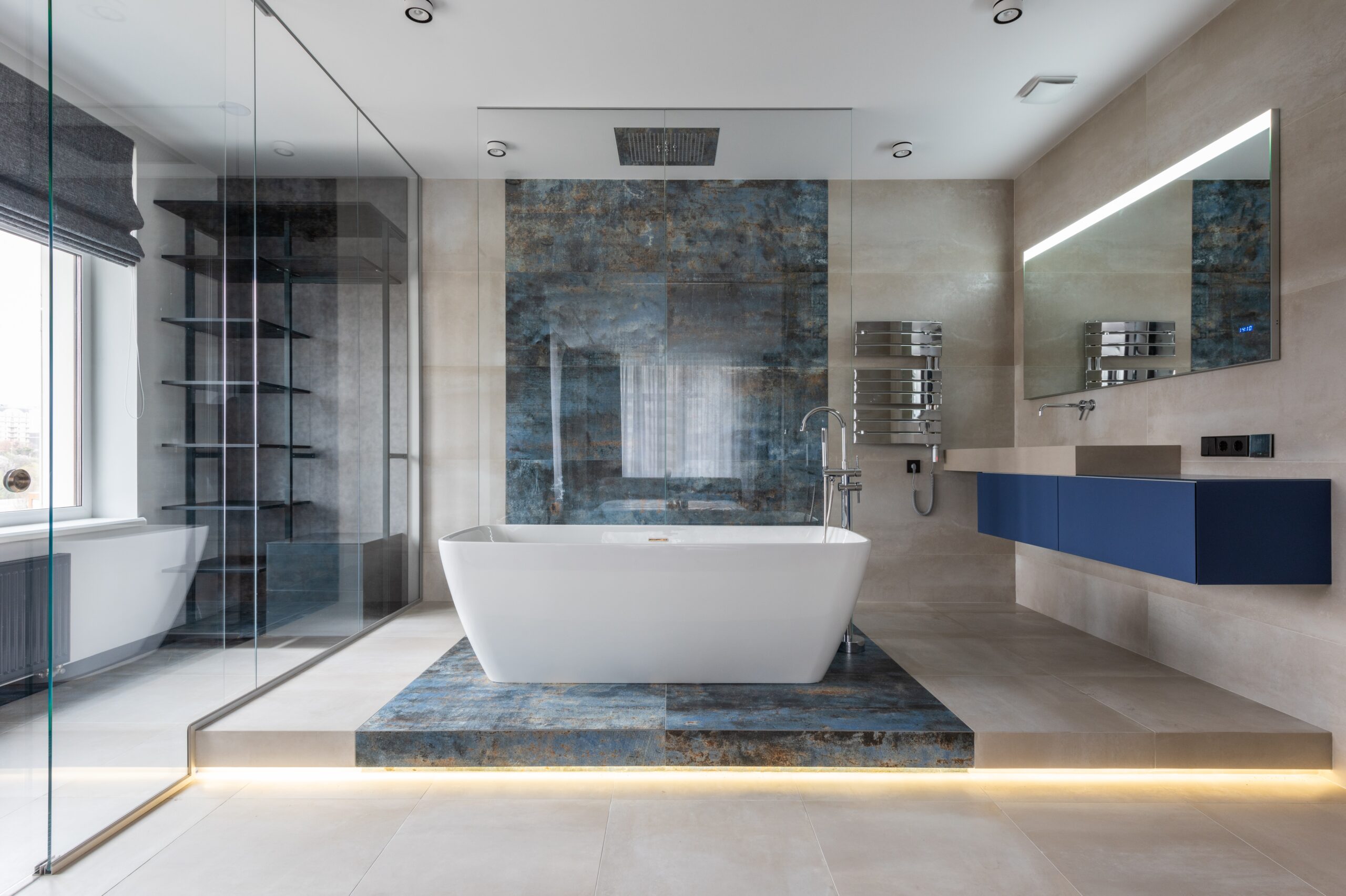 Another advantage of the ensuite bathroom is the opportunity for privacy especially for couples. It also gives some space and comfort to your guest. An ensuite bathroom usually has the following four components: The toilet, sink, tub and shower. Sometimes, the shower may be merged with the tub depending on the design of the ensuite bathroom and available space.
An ensuite bathroom is a great way to add a little extra luxury to your home. They can be used as a primary bathroom for guests or as a secondary bathroom for yourself. Ensuite bathrooms typically have their own sink, toilet, and shower area. This allows you to have more privacy when using the bathroom and also helps to keep the noise level down.
Having an ensuite bathroom is a great way to add value to your home. Not only does it provide you with extra privacy and convenience, but it can also make your home feel more luxurious. If you're thinking about adding an ensuite bathroom to your home, here are a few things to keep in mind:
1. Location is key. You'll want to choose a location for your ensuite bathroom that is convenient for both you and your guests. Ideally, it should be located near the bedroom so that you can easily access it when you need to.
2. Make sure there's enough space. An ensuite bathroom should be large enough to comfortably accommodate all of your needs, so make sure to measure the space before you start planning the design.
3. Choose your fixtures and finishes carefully. When it comes to designing an ensuite bathroom, the sky's the limit! You'll want to choose high-quality fixtures and finishes that will make the space feel luxurious.
4. Add some personal touches. Make sure to add some personal touches to the space so that it feels like your own private oasis. Consider adding a cozy chair or a beautiful piece of art to make the space truly yours.
5. Get creative with storage. An ensuite bathroom is a perfect opportunity to get creative with storage. Consider adding floating shelves or a beautiful cabinet to store all of your essentials.
Following these simple tips, you can easily design an ensuite bathroom that you'll love for years to come!
There are many things to consider when planning an ensuite bathroom. The first step is to decide on the layout. Do you want a separate shower and tub, or would you prefer a walk-in shower? Then, think about the finishes you want to use. High-end materials like marble or granite can make your bathroom feel like a spa. Finally, choose the fixtures and fittings that will complete the space.
Ensuite bathrooms are a great way to add value to your home. They are also a great way to make the most of a small space. With careful planning, an ensuite bathroom can be both functional and stylish.
Ensuite Bathroom Services
Ensuite bathrooms have recently gained popularity in most homes across the globe. Modern structures and buildings are now being designed for convenience, comfort and safety while maintaining a beautiful outlook. The best luxury one can add to a bedroom is an ensuite bathroom, a wet room or a shower room.
Most modern bedrooms with an ensuite bathroom are now being popularly regarded as master bedrooms. The master bedroom has become indispensable in every home these days. Credence Bathrooms of Newcastle is one of the leading companies in the UK, Newcastle and surrounding areas renowned for superior ensuite bathroom services. If you are considering renovating your building to incorporate an ensuite bathroom, it would be in your best interest to contact Credence Bathrooms of Newcastle to deliver a professional job to you.
If you are searching for a competent company to design and install an exquisite ensuite bathroom, search no more! Call us now or fill the above field stating your purpose in the provision for comments. Once you do this, we would book you for a free consultation service with no obligation of trade. At your request, we can bring this meeting to your doorstep. Leave your worries to our team of professionals who take pleasure in delivering quality jobs. We consider the space available, budget and choice of ensuite bathroom in giving our professional advice.
Try us today and you would be glad you did. We invent ensuite bathroom designs, supply materials for the renovation or installation, construct the ensuite bathroom and install the fittings. Our project managers supervise each task in-situ and ensure that the project is completed and delivered before the dateline.
In most homes in Newcastle and UK at large, ensuite bathrooms are installed in the master bedroom. This idea has dominated most recent bathroom designs. In fact, the ideas have indeed become the most common additions incorporated into modern homes as they provide convenience and ensure safety of the end-user right from the bedroom. This is useful in promoting personal hygiene and healthy living of the end-user.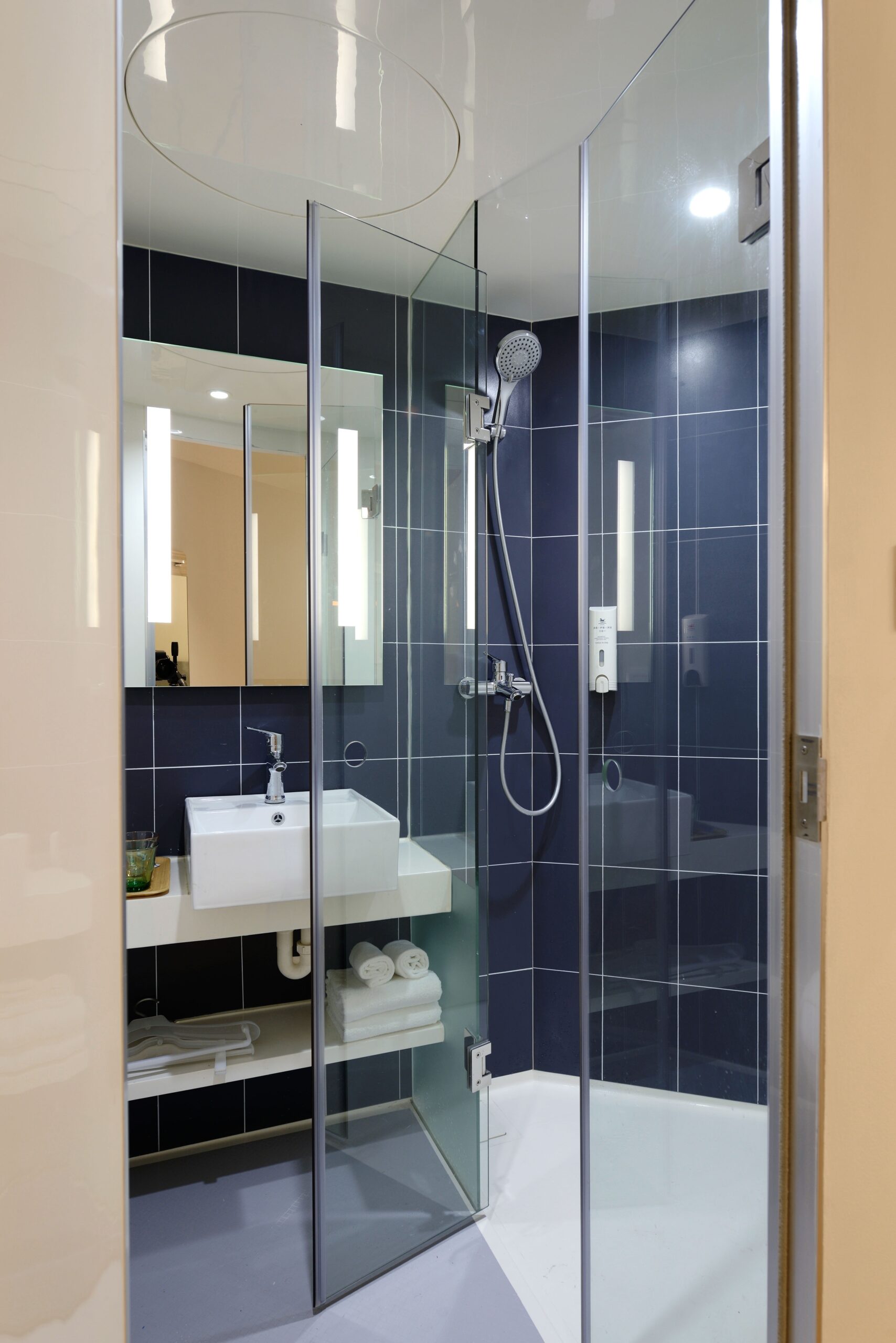 Start Your Bathroom Transformation Today
Our products at Credence Bathrooms of Newcastle
We specialise in excellent service delivery with respect to ensuite bathrooms. Our experts can utilise your space and budget to meet your specifications. We have outstanding customer relations because our policy is designed to satisfy our custumer's quest. Our products and services range from bathroom fitting and installation, plumbing and plastering to electrical works. It is our pleasure to meet with you, listen to your demands and deal professionally with you. Our good name has attracted a lot of new job requests from the entire region of Newcastle and surrounding areas. We will continue to maintain our standard and ensure prompt response to customer's requests. Our track record speaks volume and we keep our word.
Credence Bathrooms of Newcastle have some excellent products and novel designs to install your ensuite bathroom. Our professional workers are well experienced and have the capacity to install ensuite baths to match the available space (size and shape of the site), which you have provided. Even if the space is limited, we can still create a novel ensuite bathroom to utilise the small space. Your budget is another critical factor which determines the kind of job to be carried out. No budget is too big or small for the design and installation of an ensuite bathroom. All you need to do is call us now for free professional advice and you would be amazed at the outcome.
Book an appointment with us today and leave the rest to our experts to deliver an excellent job according to your space, budget and choice of ensuite bathroom.
When you are ready to realise your ensuite bathroom, feel free to reach us at Credence Bathrooms of Newcastle and we will be happy to meet you. You have the assurances of our best regards.
How Much Does Adding an Ensuite Cost?
Adding an en suite to your home can certainly be a great way to increase its value and appeal. However, it's important to know how much this project may cost before getting started.
The cost of adding an en suite will vary depending on the size and scope of the project. However, most homeowners can expect to spend anywhere from £4,500 to 6,500 on this type of addition.
If you're thinking about adding an en suite to your home, be sure to consult with our professional bathroom fitting contractors at Credence Bathrooms of Newcastle to get an accurate estimate of the costs involved. With proper design, planning and budgeting, you can make your dream bathroom a reality.
Is it worth putting in an ensuite?
Ensuites are becoming increasingly popular in new homes, and for good reason. They offer homeowners a private space to get ready for the day or relax after a long one. While an ensuite may not be a necessity, it's definitely a luxurious feature that can add value to your home. If you're considering adding an ensuite, here are a few things to keep in mind.
If you're planning to sell your home in the future, an ensuite can definitely add value. Potential buyers will be willing to pay more for a home that has this extra feature. So if you're thinking about selling down the line, adding an ensuite could be a good investment.
But even if you're not planning to sell, an ensuite can still be a great addition to your home. It can make your life more convenient and give you a little extra privacy. So if you have the space and the budget, an ensuite is definitely worth considering.
The cost of an ensuite will vary depending on the size and features you want. A basic ensuite with just a shower and toilet can start at around £4,500, while a more luxurious version with all the bells and whistles can cost upwards of £9,000 plus. That said, an ensuite is still cheaper than adding an extra bedroom, so it could be a more cost-effective way to increase the value of your home.
Adding an ensuite can also make your life more convenient. If you have young children, it can be a godsend to have a bathroom they can use without having to trek through the house in the middle of the night. And if you entertain guests often, an ensuite will give them a little more privacy and make them feel more at home.
So if you're considering adding an ensuite, weigh up the costs and benefits carefully. It's definitely a worthwhile investment, but it's not cheap. Make sure you have the space and budget for it before you take the plunge.
How long does it take to build an ensuite?
It really depends on the size and complexity of the ensuite, but generally speaking, it will take several days to complete. The first step is to determine the layout of the space and then install the necessary plumbing and electrical fixtures. Next, the walls and flooring are installed followed by the fixtures like the toilet, sink, and shower. Finally, the finishing touches like paint or tile work are added. Depending on the complexity of the project, it could take anywhere from a few days to a couple of weeks to complete an ensuite renovation.
Do you need planning permission for an en-suite?
If you're thinking about adding an en-suite bathroom to your home, you might be wondering if you need planning permission. The answer is generally no, but there are a few exceptions.
If your home is listed as a historic building, you will need to get listed building consent before making any changes. Similarly, if you live in a conservation area or protected landscape, you may need permission from your local authority before proceeding.
It's always best to check with your local planning department before making any changes to your property, just to be sure. They will be able to tell you definitively whether or not you need planning permission for your en-suite.
Can you add a bathroom anywhere in a house?
Adding a bathroom to your home can be a great way to increase its value and make it more comfortable for your family. However, before you start planning your new bathroom, you need to make sure that you can actually add one in the desired location. Here are a few things to keep in mind when deciding where to add a new bathroom:
-The first thing you need to consider is whether or not there is existing plumbing that can be used for the new bathroom. If so, then you will likely be able to install a bathroom without too much trouble. However, if there is no existing plumbing, then you will need to factor in the cost of running new pipes throughout your home.
-Another thing to consider is the amount of space that you have available. If you have a large home, then you will likely be able to add a bathroom just about anywhere. However, if you have a smaller home, then you might need to get creative with your bathroom placement. For example, you might want to consider adding a bathroom in an unused closet or even in the basement.
-You also need to think about who will be using the new bathroom. If you have young children, then you might want to avoid putting the bathroom too close to their bedrooms. On the other hand, if you are planning on using the new bathroom yourself, then you can pretty much put it wherever you want!
Keep in mind that you will need to run plumbing to your new bathroom, so you will need to factor that into your decision as well. Overall, there are many factors to consider when deciding where to add a new bathroom, but it is definitely possible to do in most homes. With a little bit of planning, you can easily add an extra bathroom anywhere in your house!
If you have any questions or need help with the process, be sure to consult a professional contractor. They will be able to help you figure out the best location for your new bathroom and make sure that everything is properly installed. With their help, you can easily add a new bathroom to your home and enjoy all the benefits that come with it!
What Our Clients Say About Us

"We were very pleased with the standard of workmanship, quality of the doors and the reasonable price of our Bathroom makeover".
Start Your Bathroom Transformation Today